Baseball Safety Tips and Prevention
No matter how many years of pitching or batting even the best players have under their belts, they still risk the possibility of a serious baseball injury. No baseball player, young or seasoned, is invulnerable to getting hurt, or sustaining debilitating, long-term injury. Though most of us may keep a first aid kit on hand for treating minor mishaps, well-intended coaches often overlook the damages that overusing certain muscles can lead to, later in life. So before you set out to play, coach, or start a club, be aware of some of the ways baseball injuries can occur, and how you can help prevent them.
The most common baseball injuries
As with many sports, there are two types of common baseball and softball injuries - impact, and overuse. Impact, or traumatic injuries are caused by sudden contact with the ground, an object, or another person. Common causes of impact baseball injuries include being struck by a bat or ball, or colliding with another player. Overuse baseball injuries are those that occur from excessive use of the wrist, arm, and shoulder joints from pitching and batting the ball.
Tips for preventing impact baseball injuries
Avoiding collisions and accidents
While baseball is much safer than contact sports, getting struck by a bat or ball, or running into each other, happens, particularly with young leagues. If you're a baseball coach or volunteer parent, you can help kids avoid collision or other impact injury in a few ways. One is by teaching and reinforcing good team communication skills from the start. Other ways include helping them to develop and practice good batting and pitching technique, and reminding kids to keep their heads up while running the bases. Other common sense ways include wearing quality, league-approved safety gear, and regularly inspecting the equipment and playing field.
Team communication
In the thrill of hitting the ball and the race to first base, new batters and infielders may lose track of the ball. Players may get easily confused about where they need to go, and who should be fielding the ball. Teammates should practice communicating with each other, which not only can prevent many impact baseball injuries but it's a great lifelong skill!
Stepping up to bat with confidence and common sense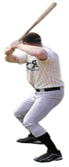 Common sense can go a long way to avoiding being smacked by a wild ball while up to bat. Batting with confidence doesn't only involve becoming skilled at the mechanics of batting. It's also knowing when to bat, how to keep from getting hit by a wild pitch, and how to release the bat before running the bases. Keep a close eye on the ball, and move aside when a ball is heading straight for the head or body by tucking the chin, lowering the head, and turning the face and body away from the pitcher. This is something little league players should practice and become good at. A couple other things players can do to keep from getting smacked in the kisser include:
Touching the end of the bat to the ground to let the pitcher know they're not ready
Setting the bat down rather than flinging it aside, which could injure someone
Running the bases
"Heads up" isn't just an old cliche. It's a smart way to avoid running into someone on the baseball field. Literally, players should practice holding their heads high while running the bases so they can watch out for where they're going in order to avoid an accident.
Gearing up for the game

Sure, we "get in gear" before we head out to the baseball field. But poorly-fitted gear, or protective equipment that's damaged or outdated is inviting trouble. One way you can help prevent baseball injuries is by knowing your league's rules regarding the batting helmet, type of cleats, and catchers equipment.
Regularly inspect your baseball equipment, protective gear, and playing field
Checking equipment and protective gear for broken or damaged parts can avert baseball injury. Taking a quick look around the baseball field for trash, broken glass, and pot holes before games can too!
Have a first aid kit handy!
Of course, all the care in the world will not prevent the occasional scrape, crash, and burn. With all that running, sliding, colliding, swinging, and plunging for the ball, minor baseball injuries are in the cards. Keep a handy sports first aid kit at every game and practice. You can buy ready-made sports first aid kits from a sporting goods store or on-line, or put one together yourself.
What to pack?

A good first aid kit for baseball should contain things for common scrapes, bumps, bruises and burns, such as elastic bandages, wraps, antibiotics, cold compresses for minor pain and swelling, sprays for cuts, and first aid scissors. And since baseball players spend a lot of time in the sun, it's a great idea to include sunscreen, zinc oxide, sting and burn relief. Epic sports has a complete assortment of affordable athletic first aid gear, including kits, packs, wraps, compresses and more! Check it out at our baseball menu.

Tips for avoiding overuse injuries
According to the American Sports Medicine Institute, elbow and shoulder injuries have risen sharply among young baseball players in recent years, blaming excessive uses, poor pitching skills, and not being physically fit. (ASMI, 2012)
Dr. James Andrews, Chairman of the American Sports Medicine Institute and board member of Little League International, is quoted as saying, "A few years ago, scientific studies showed epidemic increases in youth pitching injuries and pointed to overuse as the primary factor." (Little League, 2009)
Overuse baseball injuries often lead to long-term muscular pain and limitation of movement in the wrists, elbows, and shoulders. Overuse injury prevention begins in the earliest stages of baseball. Limiting the numbers of pitches and innings, staying fit year-round, proper conditioning, and warming up before and after games are great ways players can avoid a debilitating overuse baseball injury.
Pitching and baseball arm injuries
As we know, baseball involves a lot of pitching, which means using certain muscles, tendons, and joints of the pitching arm over and over, potentially straining them. Incorrectly pitching a ball, pitching too often, and too soon can spell trouble for young players who lack the neuromuscular development needed to perform certain moves. What results are muscle fatigue and stress. Even professional players avoid pitching too often by following guidelines provided by their league. Pitching regulations for Little League players can be found at the Little League Challenger Website.
Pitching tips to avoid baseball arm injuries
Be aware of, and respond to signs of fatigue, such as decrease in accuracy or ball speed, dropped elbow while pitching, taking more time between pitches, and complaints of being tired
Take a couple months off each year from overhead pitching
Limit the number of innings and pitches to what's prescribed by your league
Learn and practice proper throwing skills
Do not serve as both pitcher and catcher
When in pain, stop pitching and see a sports doctor
Preconditioning
Players can avoid a stress injury simply by staying active between seasons. This keeps the joints, muscles, and ligaments warm and loose year-round. Children new to the sport should be getting plenty of exercise before swinging a bat so as not to pull a muscle. Warm up and stretch before practices and games, paying particular attention to the batting and throwing muscles. Warm up by pitching balls. Practice tossing slow, easy pitches to warm up the arm and shoulder, gradually progressing to harder, game-style pitches.
While baseball is a fairly safe sport and minor scrapes, bumps and bruises cannot be avoided, serious impact and overuse injuries don't have to be part of the game. And although we wouldn't neglect to keep a first-aid kit on hand in case of accidents, kids and coaches often overlook long-term damage caused by overusing certain muscles. A little common sense on the field, along with the right training and conditioning, warming up before games, and limiting your number of pitches per year, can go a long way to preventing the most common baseball injuries.