Richardson PTS20S Pulse Flex Fit Baseball Caps. Evolved polyester-spandex fabric with moisture-wicking functionality. StayDri comfort-stretch sweatband. UFORM ProVisor with eight rows of stitching. Anti-glare charcoal-color undervisor and trim features
Product Description
Richardson PTS20S - Pulse Flex Fit Baseball Caps**** THIS CAP IS SHIPPED WITH A FLAT, "UFORM" VISOR. YOU FORM TO YOUR DESIRED SHAPE. IT DOES NOT SHIP WITH A CURVED VISOR. ****Description:
- Evolved polyester-spandex fabric with moisture-wicking functionality
- StayDri comfort-stretch sweatband
- UFORM ProVisor with eight rows of stitching
- Anti-glare charcoal-color undervisor and trim features
Size:
THREE FLEXFIT SIZES-***NOTE: Running change is being made in Richardson size tags. Some hats may ship with MD/LG on size tag but are the LG/XL (7 1/4 - 7 5/8) size. MD/LG and LG/XL tags are the same measurement of 7 1/4 - 7 5/8.
SIZE CHART
Size
XS-SM
SM-MD
LG-XL
FlexFit
6 1/2" - 6 7/8"
7" - 7 1/4"
7 1/4" - 7 5/8"
**HATS ARE BLANK**
What size cap do I wear?
The Richardson cap size conversion chart should be very helpful. Please note that due to the nature of the manufacturing process, from time to time cap sizes may vary slightly.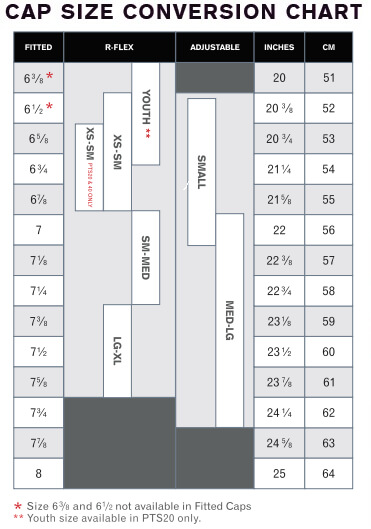 Due to color differences in monitors, the colors on this site are for reference only. Please contact Epic Sports if you have any color questions.
Customer Reviews
S. KONTNY

(Florida) on November 11, 2013
Hats hold up well. Ordered for a 12U baseball team. They look great.
---
P. MARTIN

(Illinois) on August 20, 2013
Hats were perfect for the entire team; awesome service and fast delivery. Will order again for the spring season
---
R. CARDENAS

(Texas) on June 13, 2013
Awesome cap for the price! I have bought more than 30 of these caps. I would defiantly recommend this product
---
G. HEARD

(Oklahoma) on February 28, 2013
Very well built hat. Kids love the flat bill and Dads can still put a little curve in them. High quality and great price.
---
T. MCDONALD

(Georgia) on January 22, 2013
great fit
---
Related Products and Accessories