Baseball > Footwear >

[

x

]

$20.00 and under >

[

x

]

At least 4 stars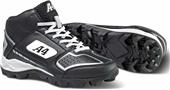 A4 F9106 Game Day Mid Baseball Cleats - Closeout [E126958]
$4.99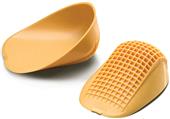 Mueller Standard Heel Cup Gold Pair [E93008]
$6.29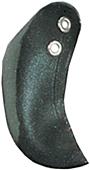 Markwort Aluminum Baseball Pitcher's Toe Plates [E10677]
$7.49-$7.99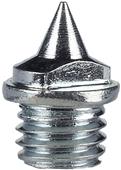 Adams Track Steel Spikes Bag/50 - Closeout [E93422]
$1.99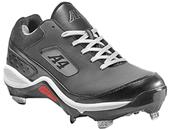 A4 Pro St Steel Constructed Baseball Cleats CO [E90708]
$8.99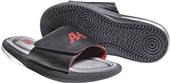 A4 Slide Ultra Soft Foam Sandals - Closeout [E90714]
$4.99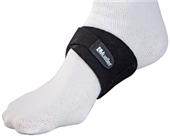 Mueller Arch Support [E93006]
$5.59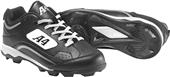 A4 Rookie Molded Rubber Baseball Cleats - Closeout [E90711]
$4.99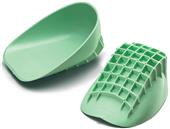 Mueller Pro Heel Cup Green Pair [E93007]
$6.89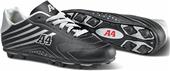 A4 F9202 Finale Youth Cleats - Closeout [E126959]
$4.99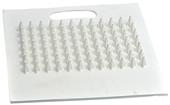 Champro Cleat Cleaner Baseball/Softball ACC [E9543]
$12.89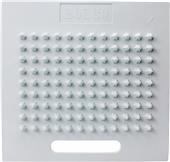 Adams Bolco Cleat Cleaner Mats [E22972]
$15.69
Baseball Cleat Buying Guide
Baseball cleats are studded shoes that allow your feet to grip the diamond. Regular athletic shoes don't provide enough traction on a field of dirt, mud, and grass. Understanding the different kinds of cleats, which ones are allowed for your league, and how to correctly fit a pair of cleats will give you the edge you need to put your best foot forward this baseball season.
Understanding the different kinds of baseball cleats
There are four general categories of baseball cleats: molded, metal, removable or "interchangeable", and turf. Understanding the differences between them and when to use them can help you decide which ones will meet your needs.
Molded baseball cleats

- Molded baseball cleats feature rubber or durable plastic studs built into the sole. They're generally considered safer for kids, thus the only cleats allowed for the youngest leagues. However, they're available for adults too. Molded cleats are larger and bulkier than metal, and don't offer as much traction on grass and loose dirt.
Metal baseball cleats

- Metal cleats feature sharp spikes that provide superior traction on softer surfaces, such as loose dirt and grass, and are allowed to be worn at the high school, college, and professional levels. Metal cleats are less bulky and more lightweight, though they carry the risk of injuring players.
Removable cleats

- Some cleats feature rubber, plastic, or metal studs able to be removed by screwing them off and on. Removable or "interchangeable" cleats allow you to replace worn studs, and change them out for different field conditions.
Turf cleats

- Turf cleats are shoes worn for baseball games played on - you guessed it, artificial turf. The difference is in the sole which, rather than having studs, consists of little rubber bumps that grip a denser surface where other cleats may actually slip. You wouldn't want to wear them on loose dirt and grass because they may not provide the needed traction.
Understanding ankle differences
Like many kinds of athletic shoes, cleats come in a variety of ankle heights: low, providing the least amount of ankle support but the most flexibility, mid-top for a medium amount of ankle support, and over-the-ankle for the most stability. If you prefer a lighter, more flexible shoe that allows you to pivot and perform fancy footwork then you probably want a low-top. On the other hand, you may want high tops if you have weak ankles, or have recently sustained an ankle injury.
The kinds of cleats allowed for your league When choosing a pair of baseball cleats, it's important to know what your league will allow. There are general guidelines, but to be sure, please check with your league or organization.
Kids are typically prohibited from wearing metal cleats for safety purposes
High school and collegiate players are allowed to use either metal, or molded cleats. Metal cleats must be rectangular, and no longer than 3/4-inch; removable cleats may be allowed with exceptions
Adult players can typically wear baseball cleats of their choice - but league rules may vary
Now that you know a little about the different kinds of cleats, you might be wondering what's best for you. Three things you may want to consider when selecting your cleats is your position, the condition of the field, and materials.
Position
Infielders and outfielders alike tend to prefer flexible, lightweight metal spikes with excellent traction for quick moves. Outfielders who spend a lot of time on a grassy field don't want to spend a lot of time pulling clumps of grass out of their molded cleats. But they might prefer materials that resist moisture. Pitchers often select lightweight metal cleats for the great traction and quick response they need while performing moves on the pitcher's mound. Toe cups help them keep the toe area from wearing out. Other variable features, such as the ankle style, and materials, are the player's choice.
Field conditions
Molded cleats generally work best on solid surfaces
Metal spikes typically provide the best traction on loose dirt, grass, mud
Turf cleats are designed for solid surfaces, such as artificial turf
Materials
Baseball cleats can be constructed of leather, synthetic, and a combination of materials. Seasoned players enjoy leather cleats for their durability and comfort. Parents tend to buy synthetic cleats for their kids because they're also durable, yet moisture-resistant and easy-to-clean; best of all, they're more affordable for replacing as kids quickly grow out of them. Today's technologies have done wonders to replicate the feel and performance of real leather.
Selecting a pair of cleats
A few things to consider before claiming your cleats:
Are they league-approved?
Are the studs appropriate for your position and condition of the field?
Is the closure secure? Velcro prevents tripping on laces - best for kids!
Are they the right fit - not too loose or tight?
Do the ankles and arches support you well?
Trying on your cleats
Your cleats need to give you not only the right traction, but fit. They should be snug enough to allow for pivoting and performing quick moves without your feet slipping in the them, yet comfortable enough to allow your feet to breathe. Try on a few pair. Select the ones that are designed for your needs. Mens and womens baseball cleats are cut a little differently to meet both of their unique bone structures. If you're shopping online for the best deals, make sure you already know which style, brand, size, and features you want. Epic Sports has great deals on baseball cleats!
For the right size baseball cleats, follow the thumb's width rule. Allow for a half-inch between the longest toe and the end of the shoe. Try them on with your athletic socks, and best to do so later in the day when your feet have swollen a little.
Can I use my soccer cleats for baseball?
The generally accepted rule is that while you cannot use your baseball cleats for soccer, you can wear your soccer shoes for baseball. If you're involved in both sports and want to only invest in one pair of shoes, best to buy a good pair of soccer cleats.
How are baseball cleats different from soccer cleats?
If you're purchasing a pair of soccer cleats to be worn for both baseball and soccer, it doesn't hurt to know what the differences are and why baseball cleats do not work for soccer. The main differences lie in the toes of the cleats. On the soles of most baseball cleats, the toe cleat is right under the center of the toes, which is not allowed for soccer for safety reasons. Soccer shoes have two front cleats on either side of the toe area. Soccer cleats are allowed to be worn for baseball and softball because rules don't prohibit them. Another difference is that since baseball is played partly on a dirt infield and soccer is played on all grass, the two cleats feature different traction patterns. Another difference is the ankle cut; soccer shoes generally being low-cut to allow for footwork flexibility and faster pivoting. Baseball cleats give players the option to wear shoes with higher ankle cuts for added support.
Are baseball cleats different from softball cleats?
Like baseball cleats, mens and womens softball cleats are designed to help a player run and perform on loose dirt, grass, and mud. The difference is that softball cleat studs are shorter than those of baseball cleats.
How do I take care of my baseball cleats?
To get the most out of your baseball or softball cleats, it's important to take good care of them. Cleaning them after every use, proper storing, and limiting their use to the baseball field are three ways you can keep your cleats in great shape.
Cleaning baseball cleats:
Cleats get caked with mud and dirt which dull them. Follow these tips for keeping your studs mud-free.
Thoroughly read any care instructions that may have come with cleats
Gently remove caked-on dirt from the soles and sides using a brush or towel
Wipe entire shoe with a damp cloth. If your cleats are leather, use special leather products designed to clean and condition
Remove extra moisture with a clean dry cloth
Allow to air dry indoors away from a heating unit
Do not dry in direct sunlight or in a drier
Storing baseball cleats
It rains, gets cold, or very hot and humid, all of which can damage leather and other materials.
Wearing baseball cleats
It's common sense, but baseball cleats are designed to be worn on baseball fields. Wearing them around elsewhere can wreck your shoes, and wear the studs down.
Shopping for the right softball or baseball cleats just takes a little knowledge and preparation. At Epic Sports, you won't have to worry about going over your budget because we carry affordable cleats to meet your level and style of play for the best season yet. Now suit up your feet and have fun!
Baseball Cleats
Step up to the plate of big savings when you shop Epic for softball and baseball cleats. Cleats for all sizes and abilities are always 20 to 40 percent off! Whether you're in the market for metal baseball cleats or molded baseball cleats, our adult and youth baseball cleats come in a variety of styles and colors. We carry the top names in the industry. Choose from among an assortment of quality designer black, red, or white baseball cleats. From little league girls or boys baseball cleats to professional, our line of discount baseball cleats is built with performance and durability in mind. We keep every day low prices in mind, so all you have to do is think about the game.