Baseball > Bats >

[

x

]

Baseball Bats >

[

x

]

Green >

[

x

]

Maple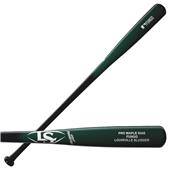 Louisville Slugger Maple S345 Fungo Baseball Bats [E126411]
$50.09-$66.89
Baseball Bat Buying Guide
Understanding the differences between baseball bats, and choosing the right baseball bat, can be a foreboding task for those new or not so new to baseball. Being informed before purchasing or borrowing a baseball bat is your best defense against making a poor choice, and wasting your money on a bat that is not properly serving your or your child. The aim of this page is to help you to make an informed, and therefore best, possible decision.
What are the different kinds of baseball bats?
Bats are typically made from wood (ash, maple, bamboo), aluminum, or a composite of various alloys and materials.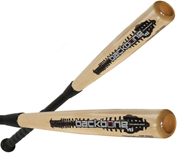 Wood:
Ash - Most wood baseball bats are made from northern white ash. Ash is best known for its hardness, durability, and overall "feel". For a long time, white ash has been the favorite for crafting great baseball bats.
Maple - A very dense wood that has gained notoriety in the baseball bat industry in the last decade. For a long time it was not considered an ideal wood for making baseball bats because of its high moisture content. Current drying technologies are making maple light enough to craft a great-performing, durable baseball bat. Industry experts recommend rock or sugar maple bats.
Bamboo - A woody grass substance that grows in tropical regions. The hollow stem is used to make baseball bats.
Aluminum
Aluminum bats have been around since the 1970s. Only in recent years has there arisen a debate over their safety. While bat speed is best achieved with lightweight aluminum bats, balls come off them faster, creating a "trampoline" effect, resulting in more player injuries. That led to the thinking that wood bats are safer for kids. For this reason, wood bats are making somewhat of a comeback. In response to the concern, tougher regulations on metal bats, coupled with ongoing technology, have resulted in safer aluminum bats without compromising performance. It really comes down to preference between the coaches, the parents, and eventually the players themselves.
Some pros of aluminum baseball bats:
Durable
Lightweight, easier to swing
Larger sweet spot
Great for kids and amateur players
Confidence-building
Available in a variety of lengths and weights
Cons:
Aluminum bats can be more unsafe due to the speed at which they can be swung, and the speed at which balls come off the bat.
Composite Bats
These baseball bats have been around for awhile, but only recently have they begun to earn more respect. For years graphite bats were thought of as being strong, but didn't hold up as well as aluminum. In the late 1990s, companies began to introduce carbon fiber composite bats. While they were durable, they didn't perform well. Things changed around the turn of the new century, and by 2001 the Louisville Slugger Genesis slow-pitch composite softball bat had become one of the top performing bats, rendering itself tough competition to aluminum. The only problem was durability. Today, there are a number of all-composite bats to choose from, mostly slow-pitch bats. For serious softball players, composite bats are the standard. There are a few composite models of baseball bats, but kids, and college-age players are preferring aluminum.
What are some differences between ash and maple bats?
Generally, baseball bats made from white ash and maple have both earned great reputations, and both are approved for professional use. White ash is the more traditional type of wood used to make bats. Ash bats are durable, and are generally more sought after than maple for their overall feel and strength. Ash bats are typically less expensive than maple bats, and are great for hitting off the end. Maple bats are noted for being very strong and long-lasting. Expect to play a little more for a great-performing maple bat. Some say that maple bats are great for driving the ball.
The advantage of a bamboo baseball bat is that it's very lightweight and durable, and environmentally-friendly. They're great for use by amateurs. The disadvantages are that they don't have the same feel (or "pop") as a maple or ash bat, are not made from single pieces like wood bats, and are not approved for use by the pros.
What are some differences between wood and aluminum baseball bats?
Wood bats are heavier than aluminum, and have smaller "sweet spots". It's thought that practicing with a wood bat will strengthen the arm and improve the swing, making it easier to transition from a lightweight aluminum bat to a wooden bat. Because aluminum bats are lighter, they're easier for kids to swing. They have a larger sweet spot, making it easier for little leaguers to hit the ball "dead center" which is confidence-building for them.
How do I know which baseball bat is best for me, or my child?
Comfort is the key to choosing the right bat. How does it feel when you're swinging it? Before you buy, borrow a few bats, mix up the makes and models, and take them down to the batter's box. A general rule: lighter bats create more speed, heavier bats generate more force. Experts agree that a great swing comes down to one thing: the mechanics of the bat. Tip: thicker-handled bats are great for line drivers; thinner-handled bats for power hitters.
One thing is for sure, there is a lot of physics involved in hitting the ball. So there's been lots of technology put into designing bats. Great hitting involves a couple of things: contacting the ball squarely, and bat speed. Combining these two elements will drive the ball farther and faster. The right bat will support these elements. It will be one you can control well, and are comfortable swinging. Lighter weights, particularly when it comes to a linear swing, can achieve that.
How do I fit my child into a baseball bat?
Swinging success and enjoyment play huge roles in matching your child to the right baseball bat. Proper training, coupled with correct sizing, will accomplish that. Parents or coaches may train the child, but overlook the length or weight of the bat. When the child has difficulty mastering the swing, the bat becomes an obstacle to their success. Baseball becomes a frustrating experience for the child, the parents, and coaches. In other words, it isn't enough to train them how to swing. Getting the correct size will make all the difference.
Older, more experienced players can usually pick a favorite bat by what feels right. For the younger players who rely on their parents to choose the right bat, it is necessary that parents know a thing or two, in order to make the right choice.
There are several factors to consider when choosing the right bat for your child: materials, length, weight, barrel sizes, and models for various abilities. Check the recommendations of the bat's company for correct sizing, or follow the general guidelines. Make sure you have a bat with the correct length-to-weight ratio, which will be the negative number printed on the bat.
When you've found the correct-sized bat, have the child hold it out in front of them with one hand. The child should be able to hold it securely for 20 to 30 seconds. Next, have them swing the bat. If they can do so comfortably and smoothly, then you may have a good match.
If the store will allow, borrow a few bats. Or borrow teammates' bats. Take them down to the batter's cage and try them out. Let your player swing a few until you land the one that feels right.
The right baseball bat really comes down to how well the batter comes close to hitting the sweet spot. This can be best achieved with a lighter bat to maintain bat speed. Tip: if the bat's too long, the weight will be too far out from the hands, making it more difficult to swing than a short bat. Shoot for the lightest bat for the correct length, which might mean a little pricier high tech alloy as opposed to less expensive aluminum, which will tend to run a little heavier due to thicker walls.
How do I know when my child is ready to move up a size?
Moving up to a larger baseball bat kind of comes down to the child, how the swing feels, and common sense. About every couple of years, check your child's measurements to be sure they're still within range of correct bat sizes using regulation guidelines. If they're out of range, it's time to move up. By about age 11 or 12, a child may be moving up to the youth bat. The barrel will be a little bigger, about 2-1/2 inches compared to 2-1/4 inches. The length-to-weight ratio will go up from about a -8 to a -5, preparing them for a smooth transition to a professional series bat a couple years later. By about age 14, the child should be swinging a pro series baseball bat.
What age can my child begin using a wood baseball bat?
Children can use a wood bat at any age, provided they are old enough to swing a bat. Now that wood bats are making a comeback in amateur baseball, they can be used at any level provided they are a proper fit. Regardless of what performance bat a child prefers, whether aluminum, wood, composite or alloy, baseball pros agree the best way to train their swing is to have them consistently practice with a wood bat.
Charts for Determining Baseball Bat Length
Bat Length by Age

| Age | Bat Length |
| --- | --- |
| 5-7 years | 24" - 26" |
| 8-9 years | 26" - 28" |
| 10 years | 28" - 29" |
| 11-12 years | 30" - 31" |
| 13-14 years | 31" - 32" |
| 15-16 years | 32" - 33" |
| 17+ years | 34" |
Bat Length by Weight and Height
Weight
Height
3'-3'4"
3'5"-3'8"
3'9"-4'
4'1"-4'4"
4'5"-4'8"
4'9"-5'
5'1"-5'4"
5'5"-5'8"
5'9"-6'
6'1" +
under 60 lbs
26"
27"
28"
29"
29"
61 - 70 lbs
27"
27"
28"
29"
30"
30"
71 - 80 lbs
28"
28"
29"
30"
30"
31"
81 - 90 lbs
28"
29"
29"
30"
30"
31"
32"
91 - 100 lbs
29"
29"
30"
30"
31"
31"
32"
101 - 110 lbs
29"
29"
30"
30"
31"
31"
32"
111 - 120 lbs
29"
29"
30"
30"
31"
31"
32"
121 - 130 lbs
29"
30"
30"
30"
31"
32"
33"
33"
131 - 140 lbs
29"
30"
30"
30"
31"
32"
33"
33"
141 - 150 lbs
30"
30"
31"
31"
32"
33"
33"
151 - 160 lbs
30"
30"
31"
32"
32"
33"
33"
33"
161 - 170 lbs
31"
31"
32"
32"
33"
33"
34"
171 - 180 lbs
32"
33"
33"
34"
34"
over 180 lbs
33"
33"
34"
34"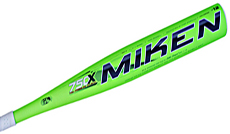 What do the negative numbers printed on a baseball bat mean?
These numbers refer to the length-to-weight ratio, or differential. This is determined by subtracting the length of the bat in inches, from the weight of the bat in ounces. For example, if the bat weighs 18 ounces, and it is 30 inches long, the number appearing on the bat would be -12.
How do I take care of my baseball bat?
There are a few basic things to remember when caring for your baseball bat.
Store your baseball bat indoors, at about room temperature. Extreme temperatures and weather conditions can affect the performance of your bat. An ideal temperature is 60 degrees F.
Store in a vertical position.
Limit the use of your bat to hitting baseballs! Obvious as this may seem, we all remember times when we have used an old baseball bat for anything from hitting a piņata, to keeping it next to our beds for security. Using your bat on anything other than baseballs can harm your bat too!
Routinely check your bat for damages. Most warranties offer one year of protection.
Limit your bat's use to official leather-bound regulation baseballs and softballs.
Don't bat water-logged balls.
Rotate your bat a quarter-inch after each swing. Known as the DeMarini Rotation Index, rotating your bat evens out the hit load to the barrel, saving the bat over the long run.
What side of the bat should I hit the ball on?
When you're holding a wooden bat, make sure the trademark is facing up so that you know you're hitting with the strongest part, keeping the bat from breaking or splintering. You can also turn the bat opposite, with the label facing down. Just make sure the label isn't on the side.
No. For the protection of your wood bat, it's best to limit your swing to only official regulation leather-bound baseballs and softballs.
What is "cupping"?
Cupping is the indentation made at the top of the bat in order to reduce its weight.
What is the "sweet spot" on a baseball bat, and where is it?
This can mean many things on a baseball bat. To a player, the sweet spot refers to the place on the fat end of the bat, or the barrel, where contact is made for the best hit possible. Some experts define the sweet spot as the "center of percussion" on the barrel where you want to hit the ball. It sits about 4-7 inches from the barrel end of a 30-inch little league baseball bat. Technically, hitting dead center on the sweet spot results in the smallest vibration of the baseball bat for a more comfortable-feeling hit, resulting in the most energy used to propel the ball forward.
If you're new to baseball, choosing the right baseball bat isn't always easy. The key to finding the best possible match for yourself, or your child, is making an informed decision. By now, you should have enough general information to make the right choice.
In case we missed something, call Epic Sports (1-888-269-2440) or send us an e-mail for more answers to frequently asked questions about baseball bats. And don't forget to check out our complete line of baseball bats!
Baseball Bats
You'll hit a home run every time you shop Epic. Our 20-40% percent discounts on our complete selection of popular baseball items will make shopping anywhere else history. We carry all the brand names of baseballs bats, baseballs, gloves, cleats, uniforms, accessories, and more. The choices are excellent and you'll get the best deals anywhere. Buying for your team and saving money has never been easier. Visit our online uniform customization department and design your own personalized look at your own desktop. And for total savings, join our growing community of affiliate members who earn a commission just by posting a link from their website to ours. Epic offers you the lowest prices on the highest quality baseball gear.